Snippets of Information
Temples in Tamilnadu

Airavateswara Temple, Darasuram


Arunachaleswarar Temple, Tiruvannamalai


Chola temples, Thanjavur


* 4 March 2023
Tiruvarur Ther
'Aazhi Ther' of Thyagarajaswamy temple is the biggest temple chariot in Asia. The 30-ft tall temple car rises to 96 ft, after decoration is completed with bamboo poles and colourful cloth, the kalasam alone accounting for 6 ft, all of which take the original weight of 220 tonnes to 350.
The 'Aazhi Ther' event is mentioned in the ancient Tamil epic Silappathikaram and also in the Thevaram hymns by the Saivite saints Appar, Sundarar, Manickavachagar and Thirugnanasambandar. References to 'Aazhi 'Ther' festival in Tiruvarur are found in the Modi (Marathi language) scripts of the Thanjavur Mahratta Ruler Shahaji (1684-1712 AD) at the famous Saraswathi Mahal Library in Thanjavur. Documentary evidences are available in the library for the Tiruvarur thaer festival happening continuously since 1748 AD till the middle of 20th century.
The beautiful ancient temple car (bigger than the present 'Aazhi Ther') was completely destroyed in a fire accident in 1926. A burst of crackers even as the thaer was passing the corner of the famous Kamalalayam temple tank, spelt disaster. Muthu Kothanar, the chief and master craftsman, involved in the construction of the Tyagarajaswamy temple in 1920, showed tremendous presence of mind and courage. Caring little about his own safety, he climbed up the burning car and first cut the ropes tied to the Panchaloha idol of Tyagarajaswamy. Using dhotis, he made a rope and pushed the idol from the chariot. The crowd, watching this with bated breath, caught the idol and carried it through the western gopuram entrance of the temple. Generally, deities in the temple never enter through this entrance.
It took nearly four years to make the present temple car ('Aazhi Ther') with the original grandeur and it was run on March 2, 1930, according to inscriptions in the temple. The car festival was conducted without interruption till 1948 and was stopped for unknown reasons. In 1970, the then Tamil Nadu Government and industrialist Thiruvarur V.S. Thyagaraja Mudaliar took efforts and hydraulic wheels made by BHEL were provided. The festival was conducted till 1975. After a break, it was resumed in 1978 and was conducted in 1982 and in 1989. After a gap of two decades, the car festival is being conducted from 2010.
Source: 'Azhi Ther' in all its grandeur in Tiruvarur by K. Subramanian, The Hindu, April 04, 2019


* 7 October 2022



The Araikasu Amman Peedam is located in Rathinamangalam, a village in the Vandalur Kelambakkam Road which branches from the GST road near Vandaloor Zoo, near Chennai. Rathinamangalam is at a distance of 5 Kms from the Vandaloor Zoo.
In the Araikasu Amman Peedam there are 107 Ammans surrounding Araikasu Amman sannadhi and the premises is guarded by Karuppanna swamy seated over eighteen steps.
Araikasu Amman restores lost or misplaced articles, documents etc if prayed and worshipped with whole hearted devotion and submission. Her worshippers are thrilled with the sight of lost or misplaced items.
The Vijaya Nagar Emperor who was ruling over Pudukkottai lost one impartant document. All his efforts to trace it were futile. Then he prayed to Pragadhambal Amman, his kula deivam for its restoration. The Amman granted his wish and the lost document was found. The king was very happy and to express his gratitude he embossed Pragadambal's picture on one side of a coin of Araikasu denomination and distributed the coins to his subjects during festive occasions. In those days the Araikasu coins were designed in a semi circular shape. The Amman from then onwards came to be known as "ARAIKASU AMMAN" and people started to pray to Her for the recovery of lost / misplaced items.
Sri Araikasu Amman Sannidhi at Rathinamangalam is surrounded by 107 Amman idols.
Source: araikasuamman.org


* 7 October 2022
108 SRI CHAKRA DEVI AMMANS at the Araikasu Amman Peedam located in Rathinamangalam near Chennai.


108 idols in the peedam:
MEEKAKSHI - MADURAI
KALI WITH 1000 HANDS - KOLKATTA
KOTTAIAMMAN - DEVAKOTTAI
GNANA PRASANNAMBIGAI - KALAHASTHI
KANAKADURGA - VIJAYAWADA
ANNAPOORNI - KASI
GARBA RAKSHAMBIGAI - THIRUKARGAVUR
MUTHU PECHI - THIRUNELVELI
PACHAI - THIRUMULLAIVAYIL
CHAMUNDEESWARI - MYSORE
SENGALAMMAN - SULURPETTAI
PADMAVATHY - TIRUCHANUR
VISALAKSHI - KASI
UJJAINI MAHA KALIAMMAN - TANJAVUR
KARUMARIAMMAN - THIRUVERKADU
SELLAYI AMMAN - KANDANUR
KALI - KOLKATA
ANNADHANA MARI - SALEM
MUTHUMARI - VIRUDHUNAGAR
RAJA RAJESWARI - BENGALURU
SEETHALA DEVI AMMAN - KUDAMURUTTI
SRI CHAKRA - DEVI
SRI CHANDIRA - PARAMESWARY
MAHA KALI - MALAYSIA
BAGHAVATHI AMMAN - CHOTTANIKARAI
TEEDAVAGA - TULJAPUR
SRI VASIYA MUKHI
KALYANA MARI
KODI UDAI - THIRUMULLAIVAYIL
SRI SANTHOSHI MATHA - VELLORE
AYEERATHU AMMAN - PALAYANKOTTAI
DURGA
ARIYA NACHIAMMAN - PUDUKKOTTAI
KANNATHAL - NATTARASANKOTTAI
ABIRAMI - THIRUKKADAIYUR
KANNIKA - PARAMESWAI
KOPPUDAIAMMAN - KARAIKUDI
MATHURA KALI - TIRUVACHUR
ANGALAMMAN - MELMALAYANUR
VISHNU DURGA
MOOKAMBIGA - KOLLUR
BANNARI AMMAN - ERODE
MUTHU MARI - THAYAMANGALAM
BHAVANI - PERIYAPALAYAM
ATRUKKAL BAGAVATHI - THIRUVANANTHAPURAM
DURGAI - PATTESWARAM
KUMARI - KANNIYAKUMARI
LALITHA PARAMESWARY - THIRUMECHUR
AKILANDESWARI - THIRUVANAIKKA
NAGATHAMMAN - CHENGLEPUT
VADIVUDAIYA AMMAN - THIRUVOTRIYUR
SELLATHAMMAN - PERAMBAKKAM
VEIYILU KATHA MARIAMMAN - THIRUVAIYARU
VEERA MAKALI - ARANTHANGI
PUNNAINALLUR MARIAMMAN - TANJOVUR
THEPPAKULA MARIAMMAN - VANDIYUR
RAJA DURGAI
BHUVANESWARI - PUDUKKOTTAI
KANTHIMATHI - THIRUNELVELI
PERIYA MARI - ERODE
KAMAKSHI - MANGADU
RAJAMATHANGI
MARIAMMAN - SAMAYAPURAM
KALI - CHIDAMBARAM
GOMATHIAMMAN - SANKARANKOVIL
VAGULA DEVI - TIRUPATHY
ABIDHA KUJALAMBAL - THIRUVANNAMALAI
MUTHARAMMAN - KULASEKARANPATTINAM
RENUKAMBAL - PADAVEDU
MUTHUMALAI - KURANGANI
SRI GAYATHIRI
NELLUKKADAI MARI - NAGAPATTINAM
THIRUVUDAI AMMAN - VELLORE
VANA DURGAI
SAKKULATHU BAGAVATHI - MELUR
BALA THIRIPURA SUNDARI - VELLORE
MANONMANI - VETTAVALAM
VAISHNAVI - JAMMU KATRA
KOLA VIZHI - CHENNAI
POONGAVANATHAMMAN - BHUVANAGIRI
SRI GURUKULA DEVI
MUMBADEVI - MUMBAI
PERAATHU SELVI - NELLAI
NADIAMMAN - PATTUKKOTTAI
PERIYA NAYAGI - PALLATHUR
KAMALAMBIGAI
THANDU MARI - COIMBATORE
SRI SHYAMALA
AYINDHU VEETU KALI - ARANTHANGI
ISAKKI - MUPPANDHAL
KARTHIYAYINI - MARATHURAI
NAMBA NAYAGI - RAMESWARAM
YEZHAI MARI - PUDUCHERI
JAYA KALIYAMMBAL - URAIYUR
SRI NIMISHAMBAL - MYSORE
JAKKAMMAL - PANCHALANKURICHI
ULAGA NAYAGI - NANGUNERI
PERIYA GAANDHI - NAVALUR
ULAGAANDESWARI - OTTAPIDARAM
SRI NITHYA SUMANGALI MARIAMMAN - RASIPURAM
SRIBAGAM PIRIYAL - THIRUVOTRIYUR
SHENBAGA VALLI - KOVILPATTI
CHOWDESWARI - ARUPPUKOTTAI
SRI RAJA KALI - DINDUIKAL
GANGADEVI - HARIDHWAR
SRI SARADHA DEVI - SIRUNGERI
MANGALAMBIGA - THIRUMANGALAKUDI
ARAIKASU AMMAN - RATHINAMANGALAM

Astothra (108) Namavalis:
Ohm Devi Madurai Meenakshi Ammane Potri! Ohm Devi Chidambaram Kali Ammane Potri!
Ohm Devi Annai Kanniga Paqrameswari Ammane Potri!
Ohm Devi Mangadu Kamatchi Ammane Potri!
Ohm Devi Kollur Mookambigai Ammane Potri!
Ohm Devi Vijayawada Kanaka Durgai Ammane Potri!
Ohm Devi Karaikudi Koppudai Ammane Potri!
Ohm Devi Siruvachur Madura Kali Ammane Potri!
Ohm Devi Kasi Visalakshi Ammane Potri!
Ohm Devi Melmalayanur Angala Ammane Potri!
Ohm Devi Annai Vishnu Durgai Ammane Potri!
Ohm Devi Thirukkadaiyur Abhirami Ammane Potri!
Ohm Devi Erode Bannari Ammane Potri!
Ohm Devi Thaya mangalam Muthu mari Ammane Potri!
Ohm Devi Periyapalayam Bhavani Ammane Potri!
Ohm Devi Devakottai Kottai Ammane Potri!
Ohm Devi Annai Atrukkal Bagavathi Ammane Potri!
Ohm Devi Thanjavoor Ujjaini Mahakali Ammane Potri!
Ohm Devi Pattiswaram Durgai Ammane Potri!
Ohm Devi Kalkatta Kali Ammane Potri!
Ohm Devi Salem Annadhana Mari Ammane Potri!
Ohm Devi Virudhunagar Muthu Mari Ammane Potri!
Ohm Devi Thiruverkadu Karumari Ammane Potri!
Ohm Devi Kandanur Sellayi Ammane Potri!
Ohm Devi Kanniyakumari Ammane Potri!
Ohm Devi Kasi Annapurani Ammane Potri!
Ohm Devi Imayamalai Vaishnavi Devi Ammane Potri!
Ohm Devi Thirumechur Lalitha Parameswari Ammane Potri!
Ohm Devi Thiruvaanaikal Akilandeswari Ammane Potri!
Ohm Devi Thirukkarugavur Karppa Rakshambigai Ammane Potri!
Ohm Devi Chengai Nagathu Ammane Potri!
Ohm Devi Thirunelveli Muthu Pechi Ammane Potri!
Ohm Devi Annai Durga Ammane Potri!
Ohm Devi Thirumullaivayil Pachai Ammane Potri!
Ohm Devi Thiruvotriyur Vadivudai Ammane Potri!
Ohm Devi Mysore Chamundiswari Ammane Potri!
Ohm Devi Sulurpettai Sengala Ammane Potri!
Ohm Devi Perambakkam Sellatha Ammane Potri!
Ohm Devi Sottanikkarai Baghavathy Ammane Potri!
Ohm Devi Thiruvaiyaru Vaiyilukatha mari Ammane Potri!
Ohm Devi Aranthangi VeeraMakali Ammane Potri!
Ohm Devi Bengaluru RajaRajeswari Ammane Potri!
Ohm Devi Thanjai Punnainallur Mari Ammane Potri!
Ohm Devi Vandiyur Theppakulam Mari Ammane Potri!
Ohm Devi Thiruvarur RajaDurgai Ammane Potri!
Ohm Devi Pudukkottai Bhuvaneswari Ammane Potri!
Ohm Devi Nellai Kanthimathi Ammane Potri!
Ohm Devi Erode Periya Mari Ammane Potri!
Ohm Devi Pudukottai Ariya Nachi Ammane Potri!
Ohm Devi Annai Raja Madhangi Ammane Potri!
Ohm Devi Samayapuram Mari Ammane Potri!
Ohm Devi Nattarasankottai Kannathal Ammane Potri!
Ohm Devi Sankarankovil Gomathy Ammane Potri!
Ohm Devi Thiruppathy Vagula Devi Ammane Potri!
Ohm Devi Annai Kalyana Mari Ammane Potri!
Ohm Devi Thiruvannamalai Abhidhagujalambal Ammane Potri!
Ohm Devi Kulasekara Pattinam Muthara Ammane Potri!
Ohm Devi Annai Vasiya Mukhi Ammane Potri!
Ohm Devi Padavedu Renukambal Ammane Potri!
Ohm Devi Kurangani Muthumalai Ammane Potri!
Ohm Devi Annai Gayathiri Ammane Potri!
Ohm Devi Nagai Nellukadai Mari Ammane Potri!
Ohm Devi Annai Vanadurgai Ammane Potri!
Ohm Devi Velur Thiruvudai Ammane Potri!
Ohm Devi Thirumullaivayil Kodiyudai Ammane Potri!
Ohm Devi Thiruchanur Padmavathy Ammane Potri!
Ohm Devi Annai Chandira Parameswary Ammane Potri!
Ohm Devi Kalahasthi Gnana Pirasannambiga Ammane Potri!
Ohm Devi Malasiya Mahakali Ammane Potri!
Ohm Devi Sakkulathukavu Ammane Potri!
Ohm Devi Annai Bala Thiripura Sundari Ammane Potri!
Ohm Devi Annai Santhoshi matha Ammane Potri!
Ohm Devi Chennai Kola Vizhi Ammane Potri!
Ohm Devi Kudamurutti Seethaladevi Ammane Potri!
Ohm Devi Annai Sri chakradevi Ammane Potri!
Ohm Devi Bhuvanagiri Poongavanathu Ammane Potri!
Ohm Devi Annai Gurukula Devi Ammane Potri!
Ohm Devi Thirunelveli Perathu Selli Ammane Potri!
Ohm Devi Mumbai Mumba Devi Ammane Potri!
Ohm Devi Vettavalam Manonmani Ammane Potri!
Ohm Devi Pattukkottai Nadi Ammane Potri!
Ohm Devi Pallathur Periyanayagi Ammane Potri!
Ohm Devi Annai Kamalambigai Ammane Potri!
Ohm Devi Kovai Thandumari Ammane Potri!
Ohm Devi Annai Shyamala Devi Ammane Potri!
Ohm Devi Aranthangi Aiyindhu Veettu Kali Ammane Potri!
Ohm Devi Muppandhal Isakki Ammane Potri!
Ohm Devi kalkatha aayiram kai Kali Ammane Potri!
Ohm Devi Marathurai Kathyayini Ammane Potri!
Ohm Devi Thuljapur Bhavani Ammane Potri!
Ohm Devi Rameswaram Nambanayagin Ammane Potri!
Ohm Devi Pondichery Yaezi Mari Ammane Potri!
Ohm Devi Uraiyur Jayakaliyambal Ammane Potri!
Ohm Devi Mysore Nimishambal Ammane Potri!
Ohm Devi Panchalankurichi Jakkamma Ammane Potri!
Ohm Devi Nanguneri Ulaganayagi Ammane Potri!
Ohm Devi Palayankottai Aayirathu Ammane Potri!
Ohm Devi Navalur Periyagandi Ammane Potri!
Ohm Devi Ottapidaram Ulagaanda Eswari Ammane Potri!
Ohm Devi Rasipuram Nithya Sumangali Mari Ammane Potri!
Ohm Devi Thiruvotriyur Bagampiriyal Ammane Potri!
Ohm Devi Kovilpatti Shenbagavalli Ammane Potri!
Ohm Devi Aruppukottai Sowdeswari Ammane Potri!
Ohm Devi Haridhwar Gangai Ammane Potri!
Ohm Devi Sirungeri Sharadha Devi Ammane Potri!
Ohm Devi Dhindugul RajaKali Ammane Potri!
Ohm Devi Thiru Mangalakudi Mangalambigai Ammane Potri!
Ohm Devi Rathinamangalam Araikasu Ammane Potri! Potri!!


Source: araikasuamman.org


* 3 October 2022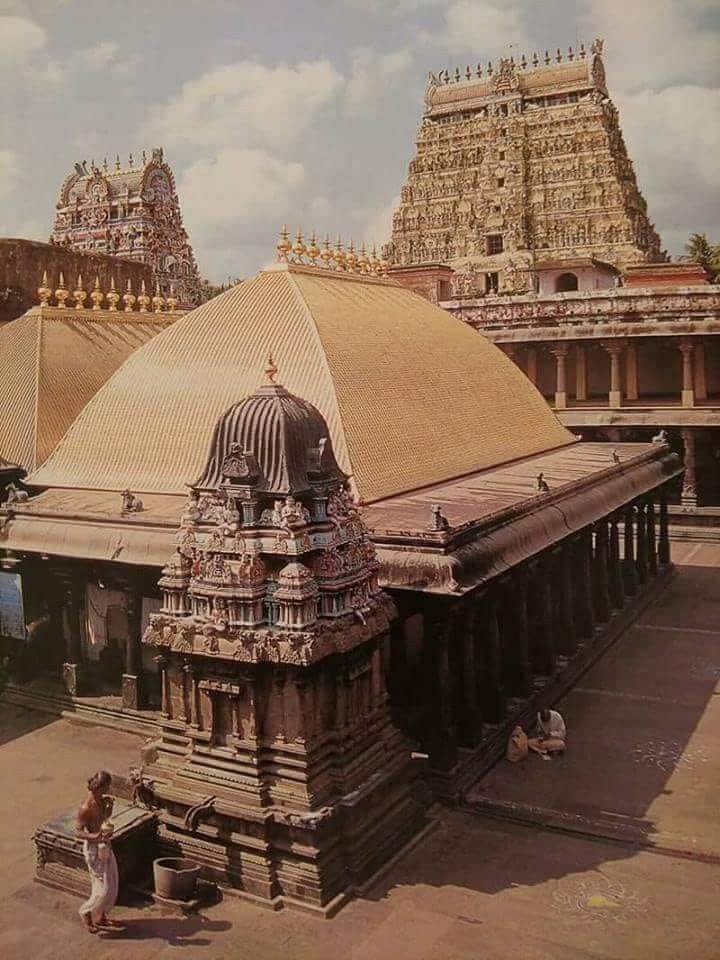 The Chidambaram Nataraja temple dedicated to Nataraja (Shiva as the lord of dance) is located in Chidambaram, Tamil Nadu, India.
The roof of Chitrambalam Is made of 21600 gold plates, inscribed with Panchakshara mantra, held together with 72000 nails. As per Yogic philosophy, humans take 21600 breaths in a day and the prana is spread through the human body through 72000 nadi or veins. The golden roof was made possible by the grace of the Chola king, Parantaka in the 10th century. Parantaka described himself as the 'bee at the lotus feet of Lord Shiva' in the inscriptions.
The most characteristic gopuram of the Pandyan style is perhaps the eastern gopuram of the Chidambaram temple which was built around 1250. This is already a tall structure: 41 m in height. Like the temples of older styles it also has a rectangular floor plan. This temple includes a high and wide opening that allows access to the patio and a pyramidal roof with rectilinear edges that comprises seven "levels" similar to those of the vimana already described in previous essays. This pyramidal roof is crowned by a semi-cylinder whose existence was also documented before in the 8th century (in the Kailasanathar temple in Kanchipuram).
The present temple was built in the 10th century when Chidambaram was the capital of the Chola dynasty, making it one of the oldest surviving active temple complexes in South India. Most of the temple's surviving plan, architecture and structure is from the late 12th and early 13th centuries.
The temple has nine major gopuram gateways connecting the various courtyards. Four of these facing the East, South, West and North are huge and colorful, visible from afar, thus serving as a symbolic and convenient landmark for pilgrims. Pictured here is the eastern gopuram of the temple complex.
Source - text and image: facebook.com/wowclubindia


* 21 March 2022
Temples for Rahu Bhagavan
Seshpureeshwar Temple in Thirupampuram village, Kumbakonam district
The temple is dedicated to Shiva, Parvati and Rahu Ketu. The main shrine is devoted to Shiva and the shrine of Rahu is situated outside the main shrine.
Source: tripadvisor.in

Sri Naganathaswamy temple at Tirunageswaram, 7 km from Kumbakonam, Thanjavur.
The primary presiding God is Lord Shiva (Lord Naganathaswamy) and his consort Goddess Parvathi (Giri Gujambika) seen along with Goddess Saraswati and Goddess Lakshmi. Rahu Bhagavan gives darshan along with his consorts Nagakanni and Nagavalli.
Source: epuja.co.in

Seshapureeswarar Temple at Thiruppampuram village, 3 kms away from Karkaththi on the kumbakonam - Kaaraikaal road.
Moolavar: Seshapureeswarar, Pambeesar, Pamburanathar, Pambureeswarar.
Amman: Vanduserkuzhali, Bramaramigai, Vandaarkuzhali, Vandaar Poonkuzhalvalli, Maamalayatti.
Source: raghukethutemplethiruppampuram.org

Nageswarar temple (Sivan temple) located at Poovarasankuppam, Viluppuram district


* 10 Dec 2021



Thiruvalanthurai Mahadevar Temple, (Pullamangai Siva Temple) is situated near Pasupathikoil in Papanasam taluk, about 15 km from Thanjavur. It is also called Sri Brahmapuriswarar/ Pasupatheeswarar Temple / Alanthurai Nathar temple.
The original sanctum sanctorum and ardha mandapa of the temple are believed to have been built during the early part of the 10th century CE during the Chola reign. However, the maha-mandapa and mukha-mandapa can be dated to 18-19th century CE, according to the ASI.
The ardha mandapa pillars have sculptures of various dancing scenes and ornamental designs. From the style and architecture, it is inferred that the temple should have been built during Parantaka Chola period. The temple is in Nakara syle. The temple is known for its sculptures, including those found on the vimana. Sculptures of Dakshinamurthy, Bikshadanar, Adisheshan, Tripurandaka, Narasimha, Prahaladan, Nandhi, dancing women, musicians and musical instruments and scenes from Ramayana adorn the temple.
There are 21 inscriptions engraved on the four walls of the central shrine and the mandapa of the temple.
Source: ASI plans to take over early Chola period temple for conservation by S.Ganesan, The Hindu, Tiruchi, October 03, 2021

The presiding deity is Brahmapureeswarar / Alanthurai Nathar / Pasupatheeswarar, Vada Theertha Nathar and the Ambal is called Alliyankothai / Soundara Nayaki.
It is one of the 70 Madakovils built by 2nd century Chola king Kochengat Chola.
This temple associated with Mother Chamundi is one of the 7 shrines of Sapta Matrikas in the Thanjavur - Kumbakonam route.
Source: tamilnadu-favtourism.blogspot.com


* 17 Nov 2021
Sri Vashishteswarar Temple, Thengudi Thittai


This Siva temple is located at Thittai, 10 Kms from Thanjavur. Thirugnanasambanthar has sung the praise of this temple.
Since sage Vasishtar worhipped the Lord here, the temple is known as Vashishteswarar Temple.
Moolavar - Sri Vashishteswarar, Sri Dhenupureeswarar, Sri Pasupathinathar (swayambu lingam)
Ambal - Sri Suganda Kundalambikai, Sri Ulaganayagi, Sri Mangaleswari.
There is a separate shrine with vimanam for Guru Bhagavan in the standing posture between the Siva and Ambal shrines. He is worshipped as Raja Guru. This is one of the Guru parihara sthalams.
Legend : Thenkudi Thittai is supposed to have been the only place that was not submerged during the pralayam (great deluge). Thittu in Tamil means a mound.

A great architectural marvel at this temple is that two stones called "Suryakaanthakkal" and "Chandrakaanthakkal" placed at strategic points on the Vimanam over the Shiva Lingam, absorbs moisture from the atmosphere and performs abhishekam to the Lord with a drop of water every 24 minutes (which is known as a nazhigai in Tamizh)
Source: dharisanam.com


* 8 Sep 2021
Sri Parthasarathyswamy Temple, Triplicane, Chennai, Tamilnadu



This temple is one of the 108 Divya Desams (Vaishnava holy shrines), its praise sung by the Azhwars in their Divya Prabandhams. Tiruvallikeni village is seen in records dating back to the Pallava period and earlier. The village gets its name from the lily pond (alli - lily ; keni - pond) in front of the temple, where it it said that Goddess Vedavalli, consort of Lord Ranganatha, one of the five main deities, was born in a lily flower. The pond itself was amidst a Tulasi forest.
The Utsavar is Parthasarathy. The image of Krishna bears the scars from Bheeshma's arrows.
Source: sriparthasarathytemple.tnhrce.in


* 29 Aug 2021
Uchi Pillayar Temple, Trichy Malai kottai....Read more


* 27 Aug 2021
Srivilliputhur Andal Temple, Virudhunagar district is one of the 108 divya desams....Read more


* 10 Aug 2021
Thiru Cherai - Saaranatha Perumal temple
The temple is located 7miles south east of Kumbakonam & 3 miles from Naachiaar Koil. The Moolavar is Saaranathan seen in standing posture facing east. The Lord gave darshan to the deity, Cauvery. There is also a sannadhi for Cauvery Amman in the temple and a sannadhi for Rajagopalaswamy. The Lord gives darshan along with five devis - Sridevi, Boodevi, Neeladevi, Mahaalakshmi and Saaranayagi. According to the puranas, it is believed that is the spot from which a gatam was made out of mud & the vedas preserved in it during the pralayam (floods).
Source: indian-heritage.org

Thiru Cherai - Saara Parameswarar temple
- The Lord Shiva is Saara Parameswarar (also called Chenneriyappar meaning one who guides in the right path). Goddess is Gyaanaambigai (also called Gyaanavalli).
- There is a Siva lingam, Sri Rina Vimochana Lingeswarar in the outer prakaram also called Kadan Nivartheeshwarar, for he rids devotees from the burden of debts.
- The praise of the Bhairavar in this temple has been sung by Appar. The Bhairavar idol can be seen with the mark of a trident and bell on the left upper arm.
- Three Durga idols as Shiva Durgai, Vishnu Durgai and Vaishnavi Durgai can be seen in a row at this temple.
- The sthala vriksham (holy tree of the temple) has only green leaves for 4 months, is full of white flowers for the next 4 months and is bare, free of leaves and flowers for the last 4 months.
View Photos: temple.dinamalar.com
Reference: dinamalar.com, pudhuyugam TV, wikipedia


* Jul 2021
Since 1966, the thousand pillars hall in the Madurai Meenakshi Amman Temple is also doubling as the museum of the temple. Among those items of artistic elegance and cultural excellence are:
Paintings explaining the quintessence of the ancient arts of architecture, sculpture, painting, music, dance and other forms of aesthetic importance.
Antique panchaloka (five metal) idols.
Collection of rare photographs.
Rare antique items.
Articles of Saiva and Vaishnava religions.
Antique coins.
Carvings in tusks and antique items.
Paintings from the Nayakka period depicting the 64 miracles performed by Lord Sokkanathar.
Source: maduraimeenakshi.org


* Jul 2021
7 Shiva temples in Mylapore
1. Kapaleeswarar Temple, North Mada Street, Mylapore, Chennai
2. Velleeswarar Temple, South Mada Street, Mylapore, Chennai
3. Karaneeswarar Temple, Bazaar Rd, Mylapore, Chennai
4. Virupaksheeswarar Temple, PV Koil St, Mylapore, Chennai
5. Valeeswarar Temple, G N Street, Mylapore, Chennai
6. Malleeswarar Temple, Thyagarajapuram, Mylapore, Chennai
7. Theerthapaleeswarar Temple, 55 Dr Natesan Rd, Sudandira Nagar, Triplicane, Chennai


* Jul 2021
Arupadai Veedu - The six most important temples of Lord Muruga
1. Palani near Madurai - Dhandayutapani
2. Pazhamudircholai near Alagar Koyil near Madurai - Solaimalai Murugan
3. Swamimalai - Swaminathanaswamy
4. Tiruttani near Tirupati and Chennai - Bala Subramanya Swami
5. Tirupparamkunram near Madurai - Subramanyaswami
6. Tiruchendur - Bala Subramanya Swami and Senthilandavar.


* Jul 2021
The five temples for Surya worship, in Tamil Nadu are known as the Pancha Baaskara Sthalangal.
They are
1. Gyayiru, near Chennai
2. Thiruchirukudi, in Thanjai
3. Thirumangalakudi, in Thanjai
4. Thiruparidhiniyamam, in Thanjai
5. Thalaigyayiru, in Thanjai.


* Jul 2021
The saptha (7) Vitanka sthalams are Tiruvaarur, Tirukkuvalai, Tirukkaaraivaasal, Tirumaraikkaadu, Tiru Naagai, Tirunallaaru and Tiruvaimur.


* Jul 2021
Paadal Petra Stalangal - Siva temples whose praise has been sung by Thiru Gnana Sambandhar, Appar, Sundarar, - also known as Thevaram Petra Thirukoilgal.


* Jul 2021
Ashta Veerattaana Sthalams - The sthalams where the Lord Siva has destroyed evil asuras & danced in joy. They are eight (ashta) in number. Tiruvatikai, Tirukkadavur, Tirukkurukkai, Tirutturutti, Tirukkovilur, Vazhuvur, Tiruvirkudi and Tirukkandiyur.


* Jul 2021
Pancha Sabha Sthalams of Lord Nataraja - The five Cosmic Dance Halls of Lord Siva
Natarajar Temple, Chidambaram - Kanaka Sabhai (gold)
Meenakshi Sundareswarar Temple, Madurai - Rajata Velli Sabhai (silver)
Nellaiappar Temple, Tirunelveli - Tamra Sabhai (copper)
Sri Vada aranyeswarar Temple, Tiruvalankadu - Ratna Sabhai (ruby)
Kutraleeswar Temple, Kutralam - Chitra Sabhai (mural)


* Jul 2021
Pancha Bhoota Sthalams - Tiruvannamalai, Kanchipuram, Tiruvaanaikkaval, Kalahasti and Chidambaram.
Tiruvannamalai (Thejo sthalam - Fire)
Kanchipuram (Prithvi sthalam - Earth)
Tiruvanaikaval (Appu sthalam - Water)
Kalahasti (Vayu sthalam - Air)
Chidambaram (Akasa sthalam - Space)


* Jul 2021
Nava Kailasam - There are 9 Siva temples in Neyveli-Thoothukudi. All the shrines are aspects of a navagraham.
1. Paapanaasam - Suryan - Mela Kailasam
2. Cheran Mahadevi - Thingal - Mela Kailasam
3. Kodaganallur - Chevvai - Mela Kailasam
4. Kunnathur - Rahu - Keezh kailasam
5. Murappanadu - Guru - Keezh kailasam
6. Thiruvaikundam - Sani - Keezh kailasam
7. Thenthiruppaerai - Budan - Keezh kailasam
8. Raajapathy - Kethu - Keezh kailasam
9. Saendha Poomangalam - Sukran - Keezh kailasam


* Jul 2021
Sri Vaanchiyam
Devotees can be rid of Kala Sarpa Dosham by offering worship at the Sri Vaanchiyam temple to both Rahu & Ketu at the same location. The holy Ganges which is believed to rid the bathers from all sins is said to have got rid of her sins by bathing in the Guptagangai waters of Sri Vanchiyam.