Snippets of Information
Fairs / Festivals


* 18 Oct 2022



Karwa Chauth (referred as Kark Chaturthi in Sanskrit scriptures) is a festival observed by married Hindu women across the country.
Karwa or Kark - earthen pot and Chauth or Chaturhti - fourth day.
Married women who observe the fast, partake a meal (Sargi, a vermiceeli meal in Punjab) prepared by their mother-in-law before sunrise. They observe a strict fast from sunrise till moonrise praying to Chauth Mata, Gauri Mata and seek the longevity and well-being of their husbands. According to the Drik Panchang, Karwa Chauth is observed on Chaturthi Tithi which is the fourth day of Krishna Paksha in the month of Karthik.
Karwa refers to the earthen pot through which the water is offered to the Moon. This water is known as Arghya and the women break their fast only after offering Arghya to the Moon.
Mehendi or Henna which is symbolic of good fortune for married women is applied on thie hand and feet.
Although they are on a strict fast, they dress up for the festival and prepare special meal as offering to the Gods.
They break their fast after sighting the moon or its reflection in a vessel filled with water, through a sieve, or through the cloth of a dupatta and seeking the blessings of the husband and elders. If the moon cannot be sighted due to weather conditions, they worship the moon placed on the matted locks of Lord Shiva, seek blessings and forgiveness and break their fast.
Source: timesofindia.indiatimes.com
The festival has now been objected to by some Indian feminists.


* 5 Oct 2022
Navaratri celebrated in different regions - some facts shared by bigbasket, a TATA Enterprise
Ravan Dahan, Garba & Dandiya, Pujo Pandals, Bommai Golu, Ayudha Puja, Vidyarambham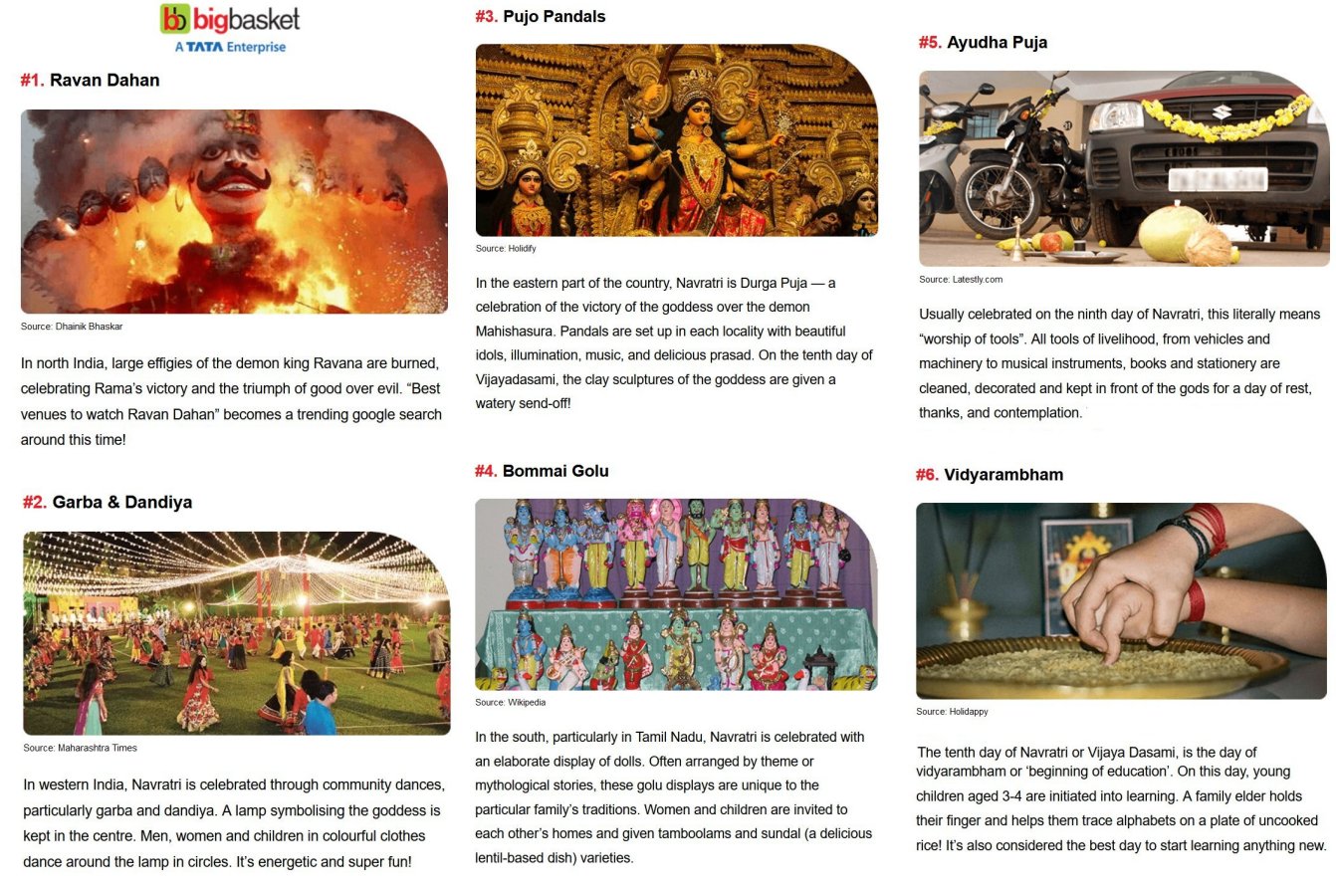 Source: mailer from bigbasket, a TATA Enterprise


* 21 May 2022
Chatar Jatra is a traditional festival celebrated by the people of Kalahandi District, Odisha. The annual journey symbolises Maa Manikeswari 's return from Jenakhal to the main temple. It's held at the exact time when Asthami ends and Navami begins. Maa Manikeswari, unique to the Kandh tribe-dominated Kalahandi, is considered to be a fusion of Odisha 's tribal and non-tribal cultures.

Groups of individuals dressed as traditional Kandha tribal warriors and demons participate in the procession during Chhatar Jatra.
Maa Manikeswari comes to Jenakhal from Garbhagriha on Maha Ashtami in the middle of midnight, which is about 3 km from the alma mater. The jatra begins with Nagar Paribhramana on Maha Navami auspicious morning. Maa Manikeswari is depicted in the jatra by a bamboo covered with black cloth, and Dasamahavidya Yantra is mounted on the silver plate at the top, which reflects Tantric Hinduism. A special practise is the replacement of the head of the deity with a new one on Durga Ashtami. It is a 'gupta niti' (secret ritual) referred to as Munda Basa, which comes from two words: munda (head) and basa (to place). The Devi 's head is removed at midnight, as per tradition, and replaced by a terracotta head studded with gems and ornaments. In the Purushottam tank adjacent to the temple, the old head is then immersed.
This terracotta head positioning can seem shocking. But it can be noted that Maa Manikeswari is headless and is thus associated with the Chhinnamasta avatar of Devi Durga. Her body is like a cylindrical frame, with a clay head fixed above it. The body is subsequently coated with clothing and ornaments. On Navami tithi, labelled as Chhatar Jatra, Maa returns to her temple after Nava Kalebara.

A tribal dance is performed to please Maa Manikeswari, which is known as the Ghumura dance.
Ghumura is a folk dance and a legacy of the district of Kalahandi. It's a dance performed with the traditional Ghumura Veer Badya instrument. The dancers tie the Ghumura (badya / instrument) on their shoulders and hang it tightly on their chests. Then there are groups playing Ghanta and others playing traditional instruments like 'dhola' and 'nishan' to demonstrate the rich heritage of the region, among others. Earlier, only one musical instrument from the royal family named 'Dum Baza' accompanied the procession of the deity.
Source: odishalifestyle.com


* 8 Oct 2021
Navaratri
Aspects of the Goddess daily worshipped
Day 1: Goddess Shailaputri Shaila means mountain and putri means daughter. Since Goddess Parvati is the daughter of the Mountain God, she is given importance on this day.
Day 2: Goddess Brahmacharini is a form of Durga Devi who reduces anger.
Day 3: Goddess Chandraghanta It is believed she has a third eye and fights against evil demons. During puja, jasmine flowers are offered to placate Her.
Day 4: Goddess Kushmanda Her name means cosmic egg. She spreads energy and warmth to all.
Day 5: Goddess Skandamata This Goddess rules over Budha (Mercury). She is both fierce and loving.
Day 6: Devi Katyayani Women offer prayers to get a peaceful married life.
Day 7: Goddess Kalaratri She is fierce and frightens evil spirits. She is the most destructive avatar of Kali and rules over Shani (Saturn).
Day 8: Goddess Mahagauri She wears only white clothes and rides a bull. On this day, Kanya Puja occurs which is dedicated to young virgin girls. The day is celebrated with dance, fun and prayers.
Day 9: Devi Siddhidaatri This Goddess fulfils all wishes.
Day 10: Vijayadasami After 9 nights of prayers, the tenth day is kept aside for Vijayadasami. A day of new beginnings based upon Victory.

Colours of the Festival
A specific colour represents each day of the Festival
Day 1 Yellow signifies warmth and joy. Enhances happiness and positivity in life
Day 2 Green is colour of fertility, serenity, growth and auspicious beginnings
Day 3 Grey represents balance, humbleness and improvement
Day 4 Orange creates calmness and positivity. Invites happiness and creativity
Day 5 White symbolises peace and harmony. Promotes security, purity and happiness
Day 6 Red signifies love, bravery and passion. Invites vitality, energy and beauty into life
Day 7 Royal Blue promotes elegance and grandeur. Signifies charisma, attainment, success
Day 8 Pink symbolises harmony, goodness and love
Day 9 Purple represents peace and nobility. Signifies prosperity, opulence and success
Source: arunachalasamudra.org
For details on Devi, Flower, Neivedhyam, Thithi, Kolam, Raagam, Slokam for each of the 9 days and Vijayadasami, please visit indian-heritage.org


* 8 Oct 2021
The Golu dolls to arrange in each step
First step - One sense creatures like plants, climbers, etc.,
Second step - Two sense creatures like snail, conch.
Third step - Three sense creatures like ant, silverfish.
Fourth step - Four sense creatures like Crab, Beetle.
Fifth Step - Five sense animals and birds.
Sixth step - Six sense humans.
Seventh step - Rishis, Sidhdhars
Eighth step - Ashtadhik Balargal, Navagraha Athibathigal.
Ninth step - Brahma, Vishnu, Sivan.
The message of this is we humans should slowly attain the stage of Divine by being and doing good things.
Source: Navarathri by Nirajana.S, superduper-kitchen.com, 24 Sep 2019


* 1 Oct 2021



Lai Haraoba is a religious festival celebrated by the Meitei people who are largely settled in and around Manipur. It is held at neighbourhood shrines dedicated to the local Umang Lai deities. These is a generic category of deities within the religious faith of the Meiteis that pre-dates the period of Hinduisation. There are no particular dates assigned in the Meitei calendar for the festival. However, it is observed in the months between February and May-June.
Lai Haraoba is more popular for its dance tradition. The elaborate ritual dance traditions have been the source of the Manipuri dance form and have been instrumental in inspiring the famed Manipuri Ras lila, which has the distinction of being one of the classical dances of India.
For detailed information and list of the deities, visit sahapedia.org/lai-haraoba-0
Source: Lai Haraoba by Rekha Konsam, sahapedia.org


* 10 Sep 2021
Vinayaka Chaturthi (Ganesh Chaturthi, Pillayar Chaturthi in Tamilnadu) is a Hindu festival celebrating the arrival of the elephant headed God Ganesha to earth to rid the world of all obstacles and troubles. It is also considered to be the birth day of Ganesha, the day he got the elephant head (the shape of OM) thus becoming all powerful. He is worshipped at the start of any action or venture, for he is considered to be the Lord who removes obstacles (vignam) and hence is also called Vigneshwara.



Vinayaka Chaturthi falls in the month of Aug - Sep (begins on the third day of the lunar month of Bhadrapada ; on the fourth day after the new moon in the month of Āvaṇi in the Tamil calendar).
During Vinayaka Chaturthi, small clay idols of Ganesha are made specially for the festival. Devotees offer pooja to the idol at home and immerse it in water after 3 days or one week. Apart from these idols for home worship, huge idols are created, also out of clay, beautifully decorated and displayed in the street. On a day fixed by the Govt., the devotees assemble at the beach in a procession and immerse the huge Ganesha idols. Depending on the size, the idols are brought to the beach in cycles, rickshaws, vans or lorries. The idols are taken to deeper waters in catamarans and immersed. The medium sized idols are carried by hand and the larger ones are lifted by crane to the catamarans.
The festival is celebrated throughout India and several other countries by the Hindu population.
Sources: indian-heritage.org ; wikipedia.org
Vinayaka idols on display in Chennai city
Ganesha idols during the procession in Chennai city
Ganesha idols during the immersion in Fore shore Estate beach, Chennai


Karthigai Deepam - Parvatha Raja clan of fishermen
* 6 Sep 2021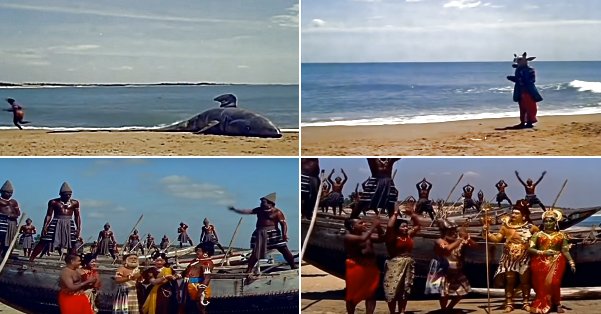 Scenes depicting the story from the Tamil film Thiruvilaiyadal (1965). Goddess Parvathi was cursed by Lord Shiva for loss of attention while listening to an explanation of the Vedas. She was born in a fishermen clan in the Pandya kingdom. When the clan were suffering from fear of a shark, Lord Shiva appeared in the guise of a fisherman and killed the shark, (which was actually Nandi Bhagavan). The grateful king of the fishermen gave his daughter in marraige to Lord Shiva.

According to local belief, the Parvatha Raja clan are descendants of a king who had been blessed by Lord Shiva to light the cauldron in order to ward off a curse. The clan has three sub-divisions: Unnamulai Priyan, Pennattu Priyan and Vathathi Priyan. The menfolk from the three sub-classes take turns every year to light the cauldron.

Every year during Deepam five earthen-pot lighted lamps, representing the five elements, provide the flame for the single Bharani Deepam which fisherman carry to the top of the mountain for use as the source-light for the Krittikai Deepam. It is also they who are entrusted with carrying the Deepam Cauldron up to the top of the Hill prior to the day of Mahadeepam. The Deepam cauldron is hauled up the slopes of Arunachala supported by poles inserted into the cauldron's rings. The unique privilege for taking the flame (source-light) and cauldron up the Hill and also for the actual lighting of the Deepam Flame is always given (for as long as the Hill's recorded history) to men of the fishing caste.
Source: Read complete story at Extraordinary Grace Given to Fishermen, arunachalasamudra.org


* 30 Aug 2021
Krishna Jayanthi (Janmashtami / Gokulashtami / Sree Jayanthi)


This is a festival to celebrate the birth of Lord Krishna. The eighth avatar in the dwapara Yuga (incarnation) of Lord Vishnu, he was born on the 8th day of the waning moon period (Krishna Paksha) in the month of Aavani or Shravana (Aug - Sep), in Rohini nakshtram. He was the eighth son of Vasudeva and Devaki.
The general norm is to fast and celebrate by offering Lord Krishna various sweets, butter, ghee, milk, curd, , fruits, aval (poha) in the evening, but the sweets offered and other practices vary from region to region.
In the South, particularly in Tamilnadu, people draw elaborate kolams and create the small foot print of baby Krishna right from their door step to the puja room where the delicacies are ready to be offered to the baby God. The usual sweets and snacks for Krishna Jayanthi are sweet and salt cheedai, murukku, payasam. In the villages, they celebrate Uriyadi, a game similar to Dahi Handi.
In the North, sweets such as peda, malpua, panjiri are offered.
Dahi Handi is celebrated - a mud pot filled with milk, butter, ghee, etc. is hung at a high spot. Boys known as Govindas form a pyramid and try to reach the pot and break it while devotees gathered around throw water on them. The winners are awarded prizes.
Bhajans and dance (Rasaleela) are conducted and devotees visit the temples to offer prayers.
Sources: astroved.com ; blog.wego.com



* Jul 2021
Festivals
India being a land of diverse cultures & religions, countless festivals are celebrated throughout the year. People of the same religion follow different customs, based on the region in which they live. The celebrations include prayers to the Gods, rituals, meeting with friends, sharing of sweets & gifts


* 21 Aug 2021
Mangani festival
is celebrated annually at Karaikal, Puducherry in veneration of Karaikal Ammaiyar, one of the 63 Saiva Nayanmars.
After the Vigneswara pooja, Paramadatta Chettiar is taken in procession from the Siddhi Vinayakar temple to the Karaikal Ammaiyar temple. The next day, the wedding ceremony of Paramadatta Chettiar and Punithavathi Ammaiyar (Karaikal Ammaiyar) takes place. In the evening Bikshadanar is taken in procession and in the night the bride and groom are taken in procession. The next day after the abhishekam and pooja for Bikshadanar and Pancha murtis, Siva in the guise of a devotee is taken in procession. During this procession devotees throw mangoes which can be caught by the crowd.
Source: temple.dinamalar.com


* Jul 2021
Kadlekkai Parishe
One of Bangalore's oldest festivals, the Kadlekkai Parishe falls during the last week of the Karthike month of the Kannada calendar. The venue is the Dodda Basavanna temple, popularly known as Bull Temple, and the Bugle Rock area in Basavanagudi, a very scenic residential area, where hundreds of vendors sit before piles of freshly harvested groundnuts, just as they have been doing for the last half a millennium.

The area was part of a cluster of villages that included Mavalli, Sunkenahalli, Hosahalli, Dasarahalli, Avalahalli, Guttahalli, Kanakanapalya, Kathriguppe, Byrasandra, Gudahalli, and others, where groundnuts fields thrived.

As is wont, there is a story behind this unusual festival. It is said that the groundnut farmers were stumped (and angered, no doubt) by someone who was feasting on their precious crop at night time. They assumed it was the handiwork of thieves and decided to catch them red-handed. Sure enough, one alert farmer heard the rustling of vegetation. However, the night was pitch black and he could not see a thing. Even so, he swung his crowbar and brought it on what he assumed a thief. It turned out to be a bull, which fell down dead, and turned into a stone even as the crowbar lay impaled in its body. It was too late the farmers learned that the bull used to come to the fields on full moon nights to not only help itself, but also to keep watch, and that the bull was the sacred Basava himself, Lord Shiva's mount. Come the next full moon and no bull appeared. The farmer who killed the bull consulted his comrades and decided to atone for his sin by constructing a temple around the stone bull. When the construction was half-complete, the farmers were aghast to see that the bull kept growing, towering over the surrounding walls. Every time the farmers raised the walls, the bull simply became bigger.

This continued till one night, the farmer who had struck down the bull had a dream in which Lord Shiva directed him to retrieve a trident buried in the earth in front of the bull and affix it on to its forehead. The farmer was also instructed to tell the others that their first groundnut harvest should be offered to the shrine every year. They complied, and the bull stopped growing. The ritual continues to this day.

Legend also has it that Bangalore's founder, Kempe Gowda, after hearing of the incident, turned up in disguise at Basavanagudi and asked the farmers who they were propitiating. On being told it was Basavanna who had looked after them all these years and had ensured that their crops got good rains, Kempe Gowda also offered his obeisance to the deity. That night he had a dream about a treasure. He had to disinter it and build a temple in its place. He complied. This was in 1537. Another version has it that Kempe Gowda, while under the captivity of the Vijayanagar ruler, Sadashivaraya, was fascinated by Hampi's architecture. On being released, he came down south to found Bangalore, and had the temple built on similar lines. (Trivia: according to geologists, the river Arkavati once flowed where the Bull Temple stands now. It changed course following an earthquake. The huge boulders in the area substantiate this conclusion.)

Shops and vendors line both sides of the road from the temple to the Ramakrishna Ashram. Farmers from villages near and far (some come even from Andhra Pradesh and Tamil Nadu) come with their fresh produce. Considering that gorging on raw groundnuts can give you the mother of all indigestions, there are the enterprising jaggery sellers (as well as puffed rice vendors) who set up shop. Special poojas are offered by the farmers to the temple deity, not just for their harvest, but also for their cattle. They also offer salt, pepper, and beans at the shrine.
Source: Going nuts over a festival, The Hindu, Metro Plus Bangalore, Monday, Dec 02, 2002, hinduonnet.com