Snippets of Information
Architecture / Sculptures / Statues

Forts

Hoysala architecture

Statue of Unity

Stepwells


* 23 Mar 2022



Chaukhandi Stupa, Sarnath, Varanasi, UP
The Chaukhandi Stupa marks the spot where Buddha was reunited with the panchavargiya bhikshus (Mahanama, Koudanna, Bhaddiya, Vappa and Asvajita). It was originally constructed in the 5th Century AD. The structure which stands atop a terraced rectangular plinth, is capped by a later addition, an octagonal tower. Govardhan, son of Raja Todarmal, added the octagonal tower in commemoration of Mughal ruler Humayun's visit. It is considered a big blessing to have a walk around the Chaukhandi Stupa and complete the Kora.

Some images of Buddha, such as the image of buddha in dharmachakra pravartana mudra and other statues found during excavations at this Stupa are believed to be rare artefacts and classic examples of art from Gupta period.

According to a notification issued by Union Ministry of Culture, Chaukhandi Stupa, an ancient Buddhist site located in Sarnath, Uttar Pradesh (UP) has been declared as 'protected area of national importance' by Archaeological Survey of India (ASI).
- The Stupa is known as 'Chaukhandi' because of its four armed plan.
- The stupa is an ancient Buddhist site which evolved from burial mounds and served as a shrine for a relic of Buddha.
- It also finds mention in account of Hiuen Tsang, celebrated Chinese traveler of 7th century AD.
Source: gktoday.in


* 3 March 2022
There is a stucco 80 feet high elephant statue of 16-17th century, in a grove outside the Thuravu Melazhagar (also called Azhagarkovil and Azhagapuri) temple, 6km from Sri Brahadeeswara temple, Gangaikondacholapuram in Ariyalur district, Tamil Nadu.
"Silpa texts describe how the plaster for these stucco figures is to be prepared, and mention 200 types of bricks. Different shapes of bricks are spoken of in the Satapatha Brahmana," says sthapathy Umapathy Acharya.
Source: Massive wonder by Suganthy Krishnamachari, Nov 25, 2010, thehindu.com
View image at india-info pinterest collection


* 3 March 2022
Scientific analysis of the Ajanta and Sithannavasal paintings has revealed that the plaster used for preparing the ground for the paintings and the pigments used are all in conformity with the technical descriptions given in texts like Kasyapa Silpa Sastra, Vishnudharmottara and Aparajitapraccha. The same kind of plaster is used in the stucco figures that we see in villages, showing the unbroken tradition in our arts, points out Umapathy.
The list of ingredients that go into making the plaster, is mind boggling - powdered lac, decoctions prepared from the barks of trees such as the banyan, peepul, fig and acacia catechu ; the decoction of gooseberries; Belliric myrobalan ; sand, pulverised stone and pebble; curd and clarified butter; extract of wood-apple, Bilwa tree; linseed oil, sandal oil, camphor oil and sesame oil; yellow orpiment; powdered barley, black gram and wheat; powdered ginger, black pepper and if possible, gold and silver dust too!
The process of extraction of the required colours from plants, roots, shoots, leaves and minerals in the soil is also explained in detail in the silpa texts, says sthapathy Veezhinathan Acharya. The ribs inside the horse and elephant are made of acacia catechu wood, and bound with processed coir rope and darbha grass.
Source: Massive wonder by Suganthy Krishnamachari, Nov 25, 2010, thehindu.com


* 15 Feb 2022



Statue of Sri Ramanuja at the ashram of Tridandi Chinna Jeer Swamy at Muchintal, Andhra Pradesh - The 'Statue of Equality', was installed to mark the 1,000th birth anniversary of the Vaishnavaite saint Sri Ramanujacharya. It is built of Panchaloha, a combination of gold, silver, copper, brass and zinc by Aerospun Corporation in China and shipped to India. It is the second largest seated statue in the world.
The base building, 16.5 mts tall, has a meditation hall, where a 54 inch statue of Ramanujacharyulu made of 120 kg gold, representing the years he lived is installed.
Source: thehindu.com

Total height of Statue of Equality - 216 ft.
Total height of Statue of Ramanuja - 108 ft.
Total height of Bhadra Vedi - 54 ft.
Total height of Padma Peetam - 27 ft.
Total height of Thridandam - 135 ft.
Number of Lotus petals - 54
Number of Elephants under Lotus - 36
Number of Sankhas and Chakras - 18 + 18 = 36
Educational gallery featuring exhibits about the inspiring life story of Ramanujacharya.
A library with all the Vedic scriptures
Auditorium for seminars and panditha sabhas.
Omnimax theatre for different shows.
A few reminiscences of Ramanujacharya's life will come alive through technology.
Replicas of 108 Divya Desams around Ramanujacharya Swamy - built in stone, rich with ornate architectural detailing and accompanied with audio guides explaining
Inside the Bhadra peeta, a 120 kgs gold statue, swarna murthy, of Ramanujacharya swami.
Abhisheka through a musical fountain.
Mukhamandapam, a common corridor for all 108 Divya Desas.
Source: statueofequality.org


* 15 Feb 2022
Unakoti, Tripura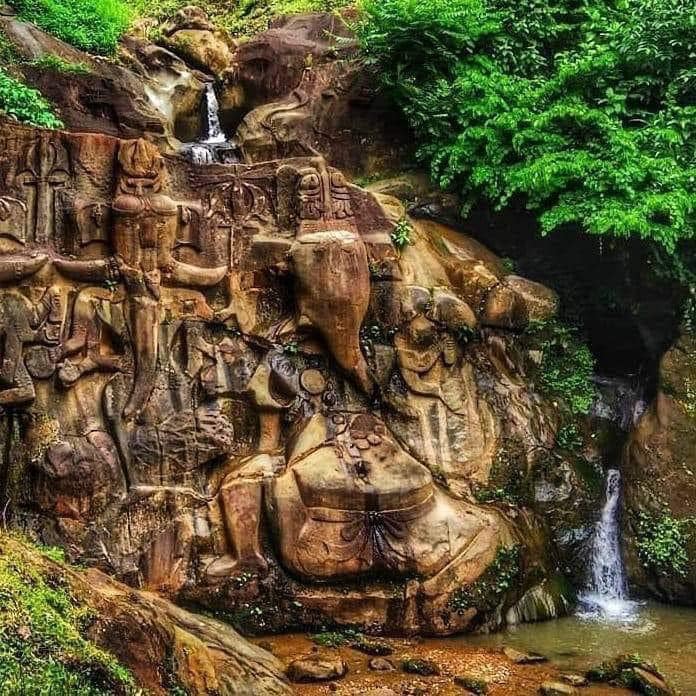 Ancient Shri Ganesh sculpture carved on the rocks at Raghunandan Hills, Unakoti (one less than a crore), Tripura, North East India
The Largest open air rock sculpture gallery in India, built in 6th century as per sources. Cut into a huge mountain, in-numerous colossal sculptures of Bhagwan Shiva, Ganesha, Maa Durga many more adorned this magical place.
Source: Bharatvarsa, fb: @IndiaTales7


* Jul 2021
Monasteries (gompas /gumphas)
Structures which serve as retirement dwelling place for monks, a place for self-reflection and self-exploration.
For a Buddhist tourist visiting India, monasteries or gompas are the prime attraction. A number of Buddhist monasteries or gompas spread across the length and breadth of India and speak volume about the Buddhist heritage of the country.

Many of these monasteries were built centuries back and have withstood the test of time. Still many others were destroyed or damaged in past and had to undergo tremendous reconstruction work. The architecture, murals, statues of Buddha and bodhisattvas inside make for an interesting visit. Moreover, many of these monasteries are located at stunning sites - clinging at the the top of hill, near streams, amidst greenery or barren landscape - which enhance their attractiveness multifold. The presence of monks inside gives a splendid opportunity to interact and accrue a whole lot of new knowledge about Buddhism in general and the monastery in particular.

Buddhist Monasteries in Bihar - Japanese Monastery, Thai Monastery, Tibetan Monastery, The Chinese Temple and Monastery and the Buddhist Temple of Bhutan.

Monasteries in Jammu & Kashmir - Hemis Monastery, Alchi Monastery, Thiksey Monastery, Cave Monastery, Stakna Monastery, Takthok Monastery, Matho Monastery, Spituk Monastery, Phyang monastery, Likir Monastery, Rizong Monastery, Lamayuru monastery, Bardan Monastery, Karsha Monastery, Phuktal Monastery, Rangdum Monastery, Sani Monastery, Tonde Monastery, Zangla Monastery, Chemrey Gompa, Diskit & Hundur Monastery, Shey Monastery, Stongdey Monastery -

Buddhist Monasteries in Sikkim - Rumtek Monastery, Pemayangtse Monastery, Phensang Monastery, Phodang Monastery, Ralang Monastery, Enchey Monastery, Tashiding Monastery, Yoksum Monastery.

Buddhist Monasteries in Himachal Pradesh - Tabo Monastery, Kye Monastery, Namgyal Monastery, Rewalsar Monastery, Dhankar Monastery, Guru Ghantal Monastery, Shashur Monastery, Kardang Monastery, Tayul Monastery, Thang Yug Monastery, Kungri Monastery, Nako Monastery, Tashiganj Monastery, Lippa Monastery -

Buddhist Monasteries in Arunachal Pradesh - Tawang Monastery, Bomdila Monastery,d Urgelling Monastery -
Source: buddhist-tourism.com


* Jul 2021
Chaityas are the halls enclosing the stupas. Ashoka constructed eight rock-cut halls in the Barabar and Nagarjuni hills and the one near Rajgir dedicated to Jaina monks. The Lomas Rishi, the Sudama (both in the Barabar hills) and the Sita Marhi (Nagarjuni hills) caves are fine examples of the Chaityas which resembled the wooden buildings of the period.
More sophisticated rock-cut chaityas developed later. The final form of rock-cut architecture that developed from these early forms can be seen all over India in Andhra Pradesh, Kathiawar in Gujarat and in Ajanta and Ellora. The rock formation in all these areas were most suited for these rock cut structures. Alternating layers of hard and soft rock prevents moisture from seeping inside.
They began the work from the top and continued downward. The Buddhists were the main contributors to these rock-cut monuments and best monuments are those found in Ajanta and Ellora (vishwakarma cave- cave No.10). Fine sculptures adorn the walls. Figures of Buddha in various poses were cut out.


* Jul 2021
Metal sculptures became popular throughout India during the post-Gupta period. In South India, they mastered the art of making huge exquisite sculptures with great stress on designs and details. The art achieved its zenith in the Chola period. The Cholas were Saivites and hence they mostly cast idols of Siva ( Nataraja ), other Saiva Gods such as Muruga, Sakthi, Ganesha, Saivite Saints. They also erected and renovated Vaishnavite shrines. Idols of Vishnu, Lakshmi in various aspects were also cast. The utsava murthis (idols) of temples, which are taken out in procession during temple festivals were made of bronze and panchaloha.
All of these idols were cast based on rules, proportions and methods laid down in the ancient texts based on scientific principles. The artisans who were involved in this art are called the Sthapathis.
Basically, the metal sculptures were cast using wax models. Two methods are followed, one yielding solid figures and the other hollow images.


* Jul 2021
Rock-cut architecture
- The caves of Ajanta
- Hindu & Jain rock-cut architecture can be seen mainly at Badami, Aihole, Ajanta, Ellora, Elephanta, Aurangabad & Mamallapuram.
- The Rashtrakutas produced the Brahmanical Kailasa temple at Ellora.
- Badami has four cave temples executed at various levels of the sand stone hill. Cave 1 is dedicated to Siva, 2 & 3 to Vishnu & cave no.4 is a Jaina structure.
- Aihole has two rock-cut temples, one Jaina & the other Brahmanical.
- At Ellora there are 17 Brahmanical caves & 6 Jaina caves.
- The Pallavas of Kanchi initiated rock-cut architecture in the South. They used the available hard granite to cave out their structures. Because of the hardness of the granite rock, there was a limitation on the size of the caves as well as the details on the sculptures.
- Mahendra Varman ( Vichitrachithan) was responsible for the Laksitayatna Trimurti cave temple at Mandagapattu dedicated to Brahma, Vishnu & Iswaran. At least 9 more temples were carved out during his time.
- Other Pallava kings also followed his style, with a few differences. Narasimha Pallava built the coastal town of Mamallapuram (Chennai). The Mamalla style cave temples were more elaborate. Monolithic rathas & vimanas belong to Narasimha's period.


* Jul 2021
Stambhas (pillars) were set up in the Buddhist sacred places and along the highways. Emperor Ashoka made a major contribution, setting up atleast thirty such pillars.
- A stambha consists of a circular column or shaft slightly tapering towards the summit (monolithic). On top of this shaft is the Persepolitan bell or the inverted lotus shaped base. Above this is the abacus on top of which rests the crowning sculpture. These three portions were carved out of a single stone (monolithic).
- The stambhas erected during various periods have shown a development in style and structure. Some fine examles are the Basarh Bakhira (with lion capital), Laurya Nandangarh in Champaran district of Nepal (with a seated lion capital on an inverted lotus and carved abacus).
- The Saranath stambha with its four lions seated back to back as its crowning sculpture is a fine specimen. Following the Buddhists, the Hindus and the Jains also had columns. (Garuda pillar at Besnagar).
- The famous iron pillar from the Gupta period is a fine specimen, withstanding exposure to rain and storm, yet remaining smooth and unrusted bearing testimony to the mastery of Indian metal-casting.


* Jul 2021
Stupas are basically funeral mounds - low circular mounds ringed by boulders. It was mostly a Buddhist art, though Jains also seemed to have built stupas.
- Emperor Ashoka had built a great number of stupas. A stupa was to enshrine body relics in the form of small pieces of calcinated bone of the Buddhist monks and teachers.
- A stupa consists of a solid hemispherical dome on which stands a kind of kiosk. A railing surrounds this (vedika) and even when the construction was of stone, it continued to rsemble wooden railings of the past in design.
- The Sanchi stupa in Madhya Pradesh is the best specimen of stupa art. The finest of Buddhist stupas in South India is that in Amaravathi, Andhra Pradesh. Stupas were also erected in Nagarjunakonda, Jaggayapetta and Ghantasala in South India.
- Smaller miniature stupas were also placed around the main, as is the case in Bodh Gaya, Gandhara and Nepal, where the pilgrims placed the stone replicas, sometimes with a Buddha statue within. The Gandhara stupas show great development in decorative sculptural elegance with a higher base.


* Jul 2021
Viharas are the dwelling places donated to the normally wandering Buddhist monks. The earlier structures were made of wood and soon developed from the primitive thatched huts into large sangharamas. Pali texts indicate the structure of the viharas. In course of time the sangharamas developed into educational institutions and centres of Buddhist learning, such as those at Nalanda, Vikramasila, Somapura. Hinayana viharas are seen in Ajanta, Ellora and in the Orissan hills in the east coast and at Nasik, Bedsa, Kondane and Pitalkhora in the Western Ghats. The development of Mahayana vihara can be traced only at Ajanta.