Snippets of Information
National & States - Symbols, Songs


* 7 Jun 2022
Sangai, the State animal of Manipur is a medium-sized deer, with uniquely distinctive antlers, with extremely long brow tine, which form the main beam. The forward protruding beam appears to come out from the eyebrow. This signifies its name, brow-antlered deer. The sexes are moderately dimorphic in body size and weight. The tail is short and rump patch is not pronounced. It has a dark reddish brown winter coat, which turns paler in summer. The females fawn all year round. The deer walks on the hind surface of its pasterns with mincing hops over floating foliage, and is hence also called the Dancing Deer.
Source: wwfindia.org


* 23 Aug 2021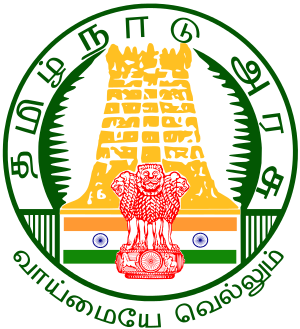 The state emblem of Tamil Nadu and also the official state symbol of the Government of Tamil Nadu was designed by Prof.R.Krishna Rao in 1949. He was a student of the Government College of Fine Arts and Crafts in Chennai. He later served as a Prof and Principal of the college.
The Tamil Nadu emblem consists of the Lion Capital of Ashoka without the bell lotus foundation and flanked on either side by an Indian flag. Behind the capital, is the image of a gopuram or temple tower. TN is the only state that has the Indian Flag on its seal. Around the rim of the seal runs an inscription in Tamil, one at the top saying "Tamil Nadu Arasu" and the other at the bottom which reads "Vaimaye Vellum" - "Truth Alone Triumphs"
The state emblem has been widely believed to be that of the Srivilliputhur temple but credible sources (Krishna Rao's student G Chandrashekaran, a former principal of the college, K Kamala, Krishna Rao's daughter) have held that the painting that formed the basis of the emblem was that of the Madurai Meenakshi temple tower.
A monograph on Rao, published by the Lalit Kala Akademi quotes him as saying, "Hailing from Madurai, it was only proper that I should incorporate the Madurai temple in the state government's emblem"



The artist who designed the State emblem by Dr. Chitra Madhavan, Madras Musings, (ARCHIVE) Vol. XXI No. 6, July 1-15, 2011
References: wikipedia.org ; deccanchronicle.com ; timesofindia.indiatimes.com


* Jul 2021
National Anthem
Jana-gana-mana-adhinayaka, jaya he
Bharata-bhagya-vidhata.
Punjab-Sindh-Gujarat-Maratha
Dravida-Utkala-Banga
Vindhya-Himachala-Yamuna-Ganga
Uchchala-Jaladhi-taranga.
Tava shubha name jage,
Tava shubha asisa mage,
Gahe tava jaya gatha,
Jana-gana-mangala-dayaka jaya he
Bharata-bhagya-vidhata.
Jaya he, jaya he, jaya he,
Jaya jaya jaya, jaya he!

The above is the full version of the Anthem and its playing time is approximately 52 seconds.

Jana Gana Mana (Bengali: Jôno Gôno Mono), the national anthem of India Written in highly Sanskritized Bengali, is the first of five stanzas of the parent song - Bharoto Bhagyo Bidhata, a Brahmo hymn composed and scored by Nobel laureate Rabindranath Tagore. It was first sung at the Calcutta Session of the Indian National Congress,on 27 December 1911. Jana Gana Mana was officially adopted by the Constituent Assembly as the Indian national anthem on January 24, 1950. The music for the "current version" is said to be derived from a composition for the song by Ram Singh Thakur, although some dispute this.

A formal rendition of the national anthem takes about forty-eight to fifty-two seconds. A shortened version consisting of the first and last lines (and taking about 20 seconds to play) is also staged occasionally.

English Translation
O! Dispenser of India's destiny, thou art the ruler of the minds of all people
Thy name rouses the hearts of Punjab, Sindh, Gujarat, the Maratha country,
in the Dravida country, Utkala and Bengal;
It echoes in the hills of the Vindhyas and Himalayas,
it mingles in the rhapsodies of the pure waters of Yamuna and the Ganges.
They chant only thy name.
They seek only thy auspicious blessings.
They sing only the glory of thy victory.
The salvation of all people waits in thy hands,
O! Dispenser of India's destiny, thou art the ruler of the minds of all people
Victory to thee, Victory to thee, Victory to thee,
Victory, Victory, Victory, Victory to thee!.
References - en.wikipedia.org/
Visit india.gov.in/knowindia/ to listen to the audio


* Jul 2021
National Song
The song Vande Mataram, composed in Sanskrit by Bankimchandra Chatterji, was a References of inspiration to the people in their struggle for freedom. It has an equal status with Jana-gana-man a. The first political occasion when it was sung was the 1896 session of the Indian National Congress. The following is the text of its first stanza:

Vande Mataram!
Sujalam, suphalam, malayaja shitalam,
Shasyashyamalam, Mataram! (Vande Mataram!)
Shubhrajyotsna pulakitayaminim,
Phullakusumita drumadala shobhinim,
Suhasinim sumadhura bhashinim,
Sukhadam varadam, Mataram! (Vande Mataram!)

The English translation of the stanza rendered by Sri Aurobindo in prose:
I bow to thee, Mother,
richly-watered, richly-fruited, cool with the winds of the south,
dark with the crops of the harvests, The Mother!
Her nights rejoicing in the glory of the moonlight,
her lands clothed beautifully with her trees in flowering bloom,
sweet of laughter, sweet of speech,
The Mother, giver of boons, giver of bliss.
Source : india.gov.in


* Jul 2021
Sare Jahan Se Aacha - Patriotic song
The poem Saare Jahan Se Achcha was composed by the poet Sir Allama Muhammad Iqbal in 1904-1905 while India was under British administration. The poem is sung by Indians on occasions of national importance and in schools as part of morning prayer. After the Indian National Anthem Jana-Gana-Mana and the Indian National Song Vande Mataram, Sare Jahan Se Achcha enjoys the reputation as the most popular patriotic song in India. The poem epitomises love for the nation and patriotism.

saare jahaan se achcha hindostaan hamaraa
hum bul bulain hai is kee, ye gulsitan hamaraa

parbat vo sabse unchaa hum saaya aasma kaa
vo santaree hamaraa, vo paasbaan hamaraa

godee mein khel tee hain is kee hazaaron nadiya
gulshan hai jinke dum se, rashke janna hamaraa

mazhab nahee sikhataa apas mein bayr rakhnaa
hindee hai hum, vatan hai hindostaan hamaraa

Translation of the poem in English:
Better than all the world, is our India
We are its nightingales and this is our garden

That mountain most high; neighbor to the skies
It is our sentinel; it is our protector

A thousand rivers play in its lap,
Gardens they sustain, the envy of the heavens is ours

Faith does not teach us to harbor grudges between us
We are all Indians and India is our homeland
Source: indif.com


* Jul 2021
National Symbols

National Flag



The National Flag is a horizontal tricolour of deep saffron (kesaria) at the top, white in the middle and dark green at the bottom in equal proportion. The ratio of width of the flag to its length is two to three. In the centre of the white band is a navy-blue wheel which represents the chakra. Its design is that of the wheel which appears on the abacus of the Sarnath Lion Capital of Ashoka. Its diameter approximates to the width of the white band and it has 24 spokes. The design of the National Flag was adopted by the Constituent Assembly of India on 22 July 1947.

National Bird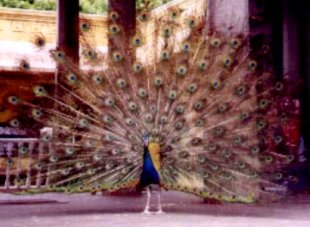 The Indian peacock, Pavo cristatus.

National Flower



Lotus, Nelumbo Nucipera Gaertn

National Tree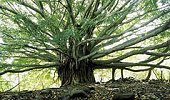 The Banyan tree called the Indian fig tree, Ficus bengalensis
Photo: india.gov.in/knowindia/

National Fruit



Mango, Mangifera indica

State Emblem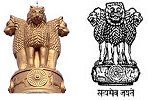 The state emblem is an adaptation from the Sarnath Lion Capital of Ashoka. In the original, there are four lions, standing back to back, mounted on an abacus with a frieze carrying sculptures in high relief of an elephant, a galloping horse, a bull and a lion separated by intervening wheels over a bell-shaped lotus. Carved out of a single block of polished sandstone, the Capital is crowned by the Wheel of the Law (Dharma Chakra) .

In the state emblem, adopted by the Government of India on 26 January 1950, only three lions are visible, the fourth being hidden from view. The wheel appears in relief in the centre of the abacus with a bull on right and a horse on left and the outlines of other wheels on extreme right and left. The bell-shaped lotus has been omitted. The words Satyameva Jayate from Mundaka Upanishad , meaning 'Truth Alone Triumphs', are inscribed below the abacus in Devanagari script.
References: india.gov.in/

National Calendar
The national calendar based on the Saka Era, with Chaitra as its first month and a normal year of 365 days was adopted from 22 March 1957 along with the Gregorian calendar for the following official purposes:
(i) Gazette of India,
(ii) news broadcast by All India Radio,
(iii) calendars issued by the Government of India and
(iv) Government communications addressed to the members of the public.
Dates of the national calendar have a permanent correspondence with dates of the Gregorian calendar, 1 Chaitra falling on 22 March normally and on 21 March in leap year.
References: india.gov.in/

National Animal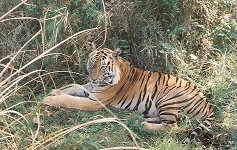 Tiger, Panthera tigris