Snippets of Information
Theatre / Puppetry


* 3 Jan 2022
Pavakathakali or Puppet Kathakali


The Aandipandaras were puppeteers from Paruthippulli and Kodumbu villages in Palakkad, Kerala. The means for their main source of income was to offer puja in households for Lord Subramanya and guide pilgrims on their way to Palani. Apart from this, some of them were good in various types of performances. It was a small group from among these who worked as puppeteers. It is believed that they came from Andhra Pradesh via Tamil Nadu and settled in Kerala. When they reached Kerala, they used to perform the Aryamaala, the Tamil folk drama as puppet show. Later when Kathakali became popular in Kerala, they carved Kathakali figures, studied the text and shaped it to make it their own art form.
Chamu Pandaram was a noted artist in the twentieth century. Kamaladevi Chattopadhyay who happened to see two such puppets in the museum in Thrissur first underlined the need to revive this art form. She was instrumental in providing the impetus and support to revive most of the puppet forms in India. Later, she entrusted Venu G to continue with research in this area. When the main performers Chamu Pandaram and his colleague Velayudhan Pandaram had passed away, only KV Ramakrishnan, the son of Velayudhan Pandaram, KC Karuppan, KC Ramakrishnan, the children of Chamu Pandaram, percussionist V Thankappan remained in the traditional family who could just about handle the art form. But none of them had the expertise to make puppets. Thottassery Narayanan, Kathakali artist and costume designer took it on himself to make the puppets studying the old puppets. At present, there is a small troupe at Natanakairali to preserve this art form.
Source: Pavakathakali by Kapila Venu, narthaki.com, December 4, 2011


* 28 Aug 2021
Tholpavakoothu (shadow leather puppetry) is a centuries-old art form from Kerala acting out a story with leather puppets is preserved as a family tradition by the Pulavars.



It is an ancient peculiar ritualistic art form dedicated to Bhagavati, worshiped by the people of Kerala as the Mother Goddess.
As a ritualistic art form, Tolpava Koothu is performed during the months of January to May at the especially constructed theatre called Koothu Madam in front of the Bhagavati temple.
- It is said to have originated in the 18th century is also known as pavakoothu (puppet play) or nizhalattam (shadow play).
- The puppets are fashioned out of the hides of buffaloes and deer, the former for evil characters and latter for noble ones.
- The puppet plays are based on selected verses from the famous Tamil Epic 'Kamba Ramayana'. The language used is a dialect of Tamil with an admixture of Sanskrit and Malayalam words.
- Ezhupara, a cylindrical drum made out of jack-fruit wood and covered with calf-skin on both ends and Ilathalam (cymbals) are the main accompaniments. Shankha (conch), Chenda and Maddalam (drums), Chengila (gong) and Kurum-kuzhal (a short pipe) are further instruments to be used on special occasions.
Source: tholpavakoothu.in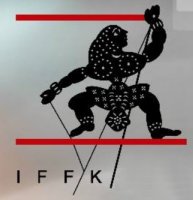 The logo of the International Film Festival of Kerala is that of a tholpavakoothu puppet.

"Tholpavakoothu in temples focusses on the rendering of The Ramayana from Kamba Ramayanam. The tholpavakoothu performance at temples lasts for 10 hours. It goes on for 21 days at the Devi temple in our village in Koonathara, Shornur (Thrissur district)", says KK Ramachandra Pulavar, recipient of the Padma Shri, who learnt the art from his father late Krishnakutty Pulavar.
Source: KK Ramachandra Pulavar expands the scope of 'tholpavakoothu' by Saraswathy Nagarajan, The Hindu, Thiruvananthapuram, Feb 22, 2021


* 21 Aug 2021
Kuchipudi Bhagavathamelam - dance theatre
The lives of Kuchipudi Bhagavathamelam essentially follow the Hindu Sanatana Dharma, a way of living through which one may achieve moksha (enlightenment, liberation) in right earnest. For the Bhagavathamelam, dance is a divine approach to fulfill their samskaras and probably that is the reason they are totally 'manasa', 'vacha' and 'karmane' wholeheartedly into dance all through their lives with body, mind and soul. The Kuchipudi Bhagavathamelam's life could be broad based into five areas like the five elements of life, namely learn, perform, teach, propagate and keep the traditions alive.
The deeds of Siddhendra Yogi is all too familiar to repeat but it would augur well to know that until this day the Kuchipudi Bhagavathamelam uphold their promise to him, that at least one son of the traditional families of Kuchipudi village will pursue dance. As requested by him, at least once in their life time they will don the female personification role in 'his' famous creation, 'Bhama Kalapam' which he taught to the Kuchipudi traditional families.
The traditional families of Kuchipudi art who form the Kuchipudi Bhagavathamelam comprises namely the Bhagavatula, Bokka, Challa, Chinta, Chitalapati, Darba, Hari, Josyula, Mahankali, Pasumarti, Pillala Marri, Somayajulu, Taddepalli, Vedantam, Vempati and Yelleswarupu. They have been and continue to be the torch bearers of the art form ensuring the nativity of the dance traditions of Kuchipudi comprising of Samskrutha roopakams, Kalapams, Yakshaganams, Kelikas; solos are not compromised and the same is preserved for posterity.
Source: Kuchipudi Bhagavathamelam: A rich cultural heritage by Tadepalli Satyanarayana, narthaki.com


* 21 Aug 2021
Kalasutri Bahuliya - puppetry art of Maharashtra
Kalasutri Bahuliya has its origin in 1600 A.D. Also known as Zaiti, it is a Marathi folk form, immensely popular till the twentieth century - 'Kal' meaning forefingers of human hand, 'Sutri' meaning black thread and 'Bahuliya' meaning puppets. This is a small wooden puppet with moveable arms and shoulder joints.
Kalasutri string puppets came from the Rajasthan-Gujarat area to Maharashtra and were given patronage by the rulers of Sawantwadi. The town of Sindhudurg known as the puppetry village has been home for praramparik kalakars or traditional folk artists from mid-eighteenth century onwards.
The puppets are carved from the lightwood of pangara that is the coral tree. The themes presented in a Kalasutri Bahuliya theatre are usually based on two epics, Ramayana and Mahabharata. The scenes from Krishna Puran are also performed, most common being the Dashavataram and Bhagawad Gita Upadesham. It is always performed with live folk music.
Source: Kalasutri Bahuliya: A dying puppetry art of Maharashtra by Charanya Gurusathya, narthaki.com